I'm taking bloggy break this weekend. In lieu of writing anything pithy, ranting about anything that annoys me, giving away anything else, I'm going to turn my blog over to a truly inspiring woman and a great cause. I've gotten to "know" her just a bit through blogging. She has an amazing family, a heart of gold and is just the kind of friend anyone would want to have. She and Jessica Kate Whitt are dear friends. I and many of you know her as Boufmom or Debi. Her 9 (yes I said NINE) beautiful kids know her as a great mom. And families fighting neuroblastoma know her as a champion in the fight to help find a cure.
Many of us felt the loss of beautiful Tuesday Fiona Whitt earlier this year. We may not have known her or her lovely family but she became ours through the joy and pain we shared via her mom's blog. Now Debi has taken up the gauntlet once again, in honor of Tuesday and her family. Also in the name of those who continue to fight and those who have lost the fight. She will be hosting the first ever Tuesday's Blog party.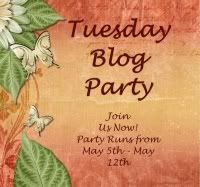 ">
Please go Here or Hereand check it out. Can you imagine the impact if we all participated? WOW! So I'll spend this weekend, not blogging, but hitting up businesses to donate, going through my piles of swag and good stuff to see what I can put up. And I'll enjoy time with my kids. I'll do this with thoughts of Jessica Kate, Charlie, Spense, Axel and Piper in the back of my mind and Tuesday in my heart.
I'll be back Monday with the name of the winner in my FIRST Fishful Thinking contest and an announcement about the Cupcake contest… plus the usual sauciness you expect here at The Nuggets. Make it a GREAT weekend!!!