Now don't go being haters and all. I've got something I'd like to gloat tell you about. It starts with the statement "I heart Twitter". Don't tweet? Think it's all Promo Piranhas and Snark Sharks? Well my Nuggetier you are SO wrong (okay so there are few Piranha and a small school of Sharks but it's small). I've actually "met" some really cool peeps over there. Besides, if I AM doing it then it HAS to RAWK right? RIGHT?!! RIGHT?!
Maybe me endorsing it isn't enough to get ya over there. Maybe a daily dose of Nugget wisdom is about all you can take. We'll then what would you say to a FREE vacation, or a Nintendo DSi (with three games), or a $25 TJMaxx card? Now I've peaked your interest haven't I, you little consumer queens you? Well back off cuz I already WON all that stuff just by hanging out around the nest and going to Twitter parties.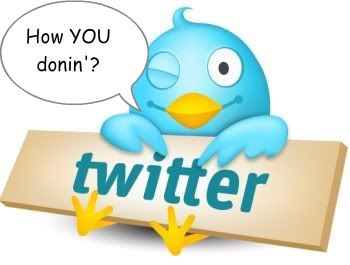 I want YOU to get in on some of this action. AND I'm willing to make a FOOL OF MYSELF IN PUBLIC to get you there. This Thursday, November 19th at 8:00 pm, Janine of Twofer Mom will be sending the likes of Moi, Jen of Hip as I Wanna Be, Mary of Pajamas and Coffee, Amy of Resurceful Mommy down the runway LIVE via Stickam with the spring collection of designer bags from Sondra Roberts. We'll be tweeting as well and yes YOU can win! Handbags from the Sondra Roberts and SR Squared lines will be given to "TWEEPS" who tweet at the "hashtag" (twitter code for number symbol plus a title) #sondraroberts. All you need to do is sign up for Twitter (if you didn't already do that the MOMENT I told you to!) then go HERE and rsvp. Be sure to follow our hosts @Rescourcefulmom @ShortPumpPreppy @TwoferMom and the designer behind the couture fun @SondraRoberts. All your tweets should include #sondraroberts!
I want some NUGGETIERS taking home the prizes (and I need the moral support) so be there or I'm hunting you down and pulling your official Nuggetier card!
Oh cameras go on at 7:30 pm if you just want to laugh at us before the giving away of COOL loot starts. FYI I'm bringing Sexy Back!